Lukas Podolskiwas the subject of interest from clubs such as Bayern Munich, Real Madrid, Hamburg, Liverpool and Werder Bremen shortly before winning the Young Player award at the 2006 FIFA World Cup tournament on home soil. The German had one year left on his contract at FC Koln at the time.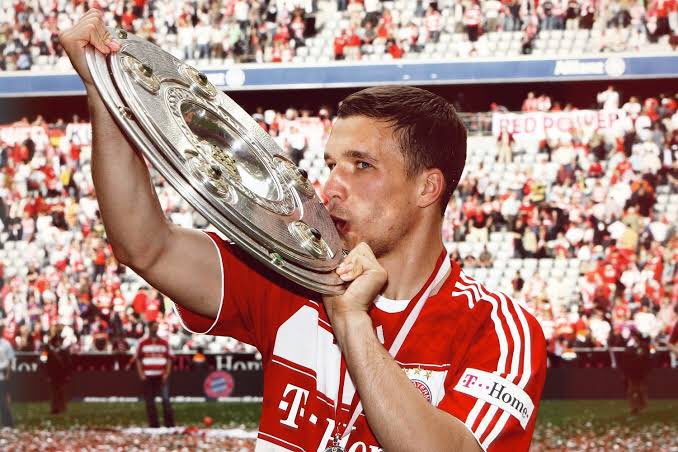 German Bundesliga giants Bayern Munich won the race to sign Podolski from FC Koln with the club confirming via a statement on June 1, 2006 that an agreement has been reached for his signing and that he will join the Bavarian team ahead of the 2006/07 season.
The financial details of the transfer that took Podolski from FC Koln to Bayern Munich in 2006 was not immediately revealed. Later, it was stated that Bayern paid around €10m for the transfer.
Podolski made his Bayern debut in the league as a late substitute against Borussia Dortmund in game that ended 2-0. The forward played the final two minutes of the game. Lukas Podolski was a substitute in the second half of the German Cup clash with St. Pauli on September 9, 2006 and he scored the equaliser 26 seconds after restart to level the scoreline at 1-1. He scored his first German Bundesliga goal against Hertha Berlin on October 14, 2006 with his goal clinching a 4-2 win over the capital club. Podolskisuffered a serious injury to his right ankle following a tackle from Dutchman Mark van Bommelin training around two weeks after the Berlin game. The injury forced him to miss more than the five weeks initially revealed as the time needed for him to recover from the injury.
Lukas Podolski returned from injury to score against Alemannia Aachen. His playing time at Bayern reduced significantly after the signing of Italian star Luca Toni with manager OttmarHitzfeld opting to start Luca Toni and Miroslav Klose in attack.
Podolski won the first major silverware of his career when Bayern won the league title during the 2007/08 season in addition to the German Cup during the same season. He spent one more year at Bayern Munich before returning to FC Koln in July 2009.